My first post of March!
The Wisconsin Badgers are a college basketball team based on Madison, Wisconsin.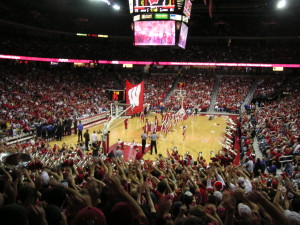 In their 2013-2014 season, they played so well that they made it to the Final Four.
In the semifinal game, on April 5, 2014, the Badgers played against the Kentucky Wildcats. The Badgers did good in that game, and had the lead at halftime. Unfortunately, Kentucky would win by just 1 point, the the final score of 74-73.

Kentucky went to the national championship game vs the Connecticut Huskies. Unfortunately, Kentucky would lose 60-54.
Next season, the Badgers played better and again made it to the Final Four. They would again face Kentucky on April 4, 2015. But here was the problem: Kentucky was doing super well and was then undefeated. So the Badgers would have to play their very best.
Both teams did super well in that game. Luckily, Wisconsin would win 71-64.

So Wisconsin made it to the national championship, against the Duke Blue Devils. This was Wisconsin's 1st national championship game since 1941. The Badgers defeated the Washington State Cougars 39-34 in the 1941 championship game.
And so, on April 6, 2015, Wisconsin and Duke played in the championship game. Since Duke lost more games than Wisconsin, and Wisconsin had defeated so many mighty teams, it looked like Wisconsin could have that game in the bag. Both teams performed quite well for the 1st half. At one point in the 2nd half, Wisconsin was up 48-39, which is a 9-point lead, so it looked like the Badgers WOULD win the game. Unfortunately, the Blue Devils would make a comeback in the later part of the 2nd half, and within the last 5 minutes, Duke took the lead for the 1st time in the second half, and the Blue Devils would end up winning 68-63.

See what I mean? Now I bet many Badger fans were shocked when the Badgers lost the game as they were so good.
I bet many Badger fans are wondering when they will ever win a national championship game. It could be this season, or next season, or the season after that, or the season after that, etc.! Now for this Badger season, this did not go well for the 1st part, but luckily now they are doing much better and hove won many of their last several games.
OKAY, now here's the deal: now the Wisconsin Badgers have PLAYED a national championship game since 1941, but they've never actually WON a national championship game since 1941. For this year, the Final Four will be on April 2, and the national championship will be on April 4.
So remember-the next time Wisconsin plays in a national championship game, forget the other team! Wisconsin's the team WE'RE talking about!
Well, this post is finished. Again, don't forget to root for the WISCONSIN BADGERS in their next several games!
CATCH MY OTHER POSTS!