First things first, I have some love songs in this post. And ALL of them are sung by duets.
First song is one duet by Teddy Pendergrass and Whitney Houston way back from 1984, and it's called "HOLD YOU".
A Disney duet song is "A WHOLE NEW WORLD" (from the movie ALADDIN in 1992) by Peabo Bryson and Regina Belle.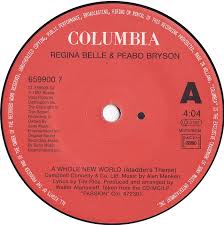 3 other songs were recorded by this duet to date: "WITHOUT YOU (from the movie LEONARD PART 6 in 1987)", "I CAN'T IMAGINE (in 1991)", and "TOTAL PRAISE (in 2009)". All 3 are shown below.
Another Disney duet song with Peabo Bryson is "BEAUTY AND THE BEAST" (from the movie of the same name in 1991) with Celine Dion.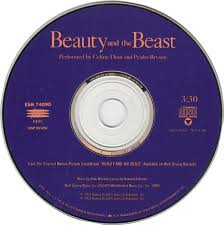 This has been the only song recored by that duet to date. Though the only reason Peabo performed this song as well is Celine was still pretty much unknown to American audiences at the time, due to her having previously been performing in Canada, and Disney didn't think the song would be very successful on her own, yet a lot of fans wish they had stuck with Celine recording it as a solo (since the version in the animated movie was sung by just a female character, you see…).
A Youtube video says Celine and Peabo recorded "SOMEWHERE OUT THERE" (from the movie AN AMERICAN TAIL in 1986) also, but that's actually incorrect: it was James Ingram and Linda Ronstadt who REALLY sung it. Though here is the video anyway.
Well anyway, this guy named Peter Cetera has recorded many love duets. One of them was with Crystal Bernard called "(I WANNA TAKE) FOREVER TONIGHT (in 1995)".
Another one of them was with Agnetha Faltskog called "I WANSN'T THE ONE (WHO SAID GOODBYE) (in 1987)".
The final duet love song video in the post is "LOVE OF ALL TIME (in 1987)" by the band Shakatak.

Shakatak, like I told you, is a band, so of course they've made other songs.
That's it for the love duet post, and I'll be catching you soon with some more posts and updates.
CATCH MY OTHER POSTS!